Leon's List - 2022 Week 4
Leon's List is a weekly post about waiver wire players I'm keeping an eye on.
---
It looks like Carson Wentz didn't get his revenge in Week 3. He was sacked 9 times on his way to 9.64 fantasy points.
Another dud was Jakobi Meyers, who was dealing with injuries and did not play last week. A concern going forward with him, and the Patriots, is that Mac Jones has a high ankle sprain and could miss multiple games.
The other two players on Leon's List did reasonably well. Tyler Lockett scored double digit fantasy points. Garrett Wilson was out of the game for a bit with a rib injury but still put up a solid 9.0 points.
---
FAAB Watch
Big Spenders
I was the biggest spender last week with $64! I thought there was going to be more interest with Garrett Wilson and went all in with $51. I also spent quite a bit on Evan Engram because of the Trevor Lawrence hype. I'm not sure if this will pay off but I'm an even bigger believer after the Jags win over the Chargers.
The other two big spenders last week were Mat with $37 and Vince with $26.
Bidding Wars
The player with the most bids last week was Garret Wilson. The biggest bid, as mentioned above, was $51. The next highest was $16.
Other players with multiple bids were Tua and Lockett. It was a similar situation with those bids. The highest bid was well over the rest of the bids.
---
This Week's List
Trevor Lawrence (QB - JAX)
I alluded to it earlier but I am buying the hype around the Jaguars, Trevor Lawrence, and Doug Pederson. Lawrence is QB11 through the first three weeks with points totals of 15.4, 18.5, and 25.2. He and the Jags seem to be getting better every week.
I'm not sure if Lawrence should be your starting QB next week against the Eagles. The Eagles pass rush is pretty damn good. Just ask Carson Wentz about it. However, the Jags have a pretty soft schedule after next week. Houston, Indy, and the Giants are on tap after Eagles.
Marcus Mariota (QB - ATL)
The Falcons are running Mariota like he's Lamar Jackson or Jalen Hurts. He has two rushing touchdowns in three weeks. Mariota is rushing about 8 times a game for 30 rushing yards. This definitely helps raise his floor.
I also like the weapons around him in Drake London, Kyle Pitts, and Cordarrelle Patterson. The Falcons are feisty and put up 26 or more points in all their games so far.
Tyler Allgeier (RB - ATL)
Sticking with the Falcons, I also like their 5th round pick from BYU. Allgeier appears to be RB2 behind Cordarrelle Patterson. The Falcons coaching staff mentioned that they want to manage Patterson's work load after seeing him wear down in the second half of last season. This is more of a stash but I liked what I saw in Allgeier's limited usage.
Romeo Doubs (WR - GB)
The rookie out of Nevada was one of the bright spots in an ugly game between the Bucs and Packers last week. Doubs went wild with 8 catches for 73 yards and a touchdown.
He got extra opportunities due to injuries to both Sammy Watkins and Christian Watson. Watkins was put on IR and Watson's status is still up in the air. So Doubs could see this increased workload for several weeks.
Mack Hollins (WR - LV)
Mack Hollins had a fantastic Sunday with 27.96 fantasy points. He caught 8 passes for 158 yards and a touchdown. Hollins filled in for Hunter Renfrow, who was out with a concussion. I haven't heard any news of Renfrow's status coming into this week. Hollins is a great pick up if Renfrow were to miss more games.
Zay Jones (WR - JAX)
Let's go Jags!
Christian Kirk has established himself as WR1 in the Jacksonville offense. But Zay Jones has a role in this offense next to Kirk. After Kirk, Jones is receiver in the most offensive snaps with a 76% snap count. Jones appears to be the guy for the quick routes, which seems to the Lawrence's forte at the moment.
Marquise Callaway and Tre'Quan Smith (WR - NO)
The Saints suffered injuries to both Jarvis Landry and Michael Thomas last week. As a result, Chris Olave went off again. Olave is currently tucked away on my roster and not available to pick up. But Marquise Callaway and Tre'Quan Smith are on the waiver wire. Smith is my favorite between the two but he has to clear concussion protocol.
David Njoku (TE - CLE)
David Njoku might be off some people's radar since the Browns played five days ago on Thursday Night Football. But he exploded for 89 receiving yards and a touchdown on 9 catches. He has also been a staple of this offense with a snap count of over 90% through the first three weeks. Brissett also looked more comfortable in this offense last week. He has shown he can get the ball to both Njoku and Amari Cooper.
Tyler Conklin (TE - CLE)
Tyler Conklin has been sneaky reliable. He has been in over 90% of the Jets offensive snaps and averages 8 targets per game. He is currently the 4th best TE in our league. There is a bit of uncertainty with Zach Wilson coming back next week. However, I am unusually optimistic about the Jets offense as seen with my $51 bid on Garrett Wilson last week.
---
Best Thing I Saw This Week
There were two unusual safeties in Week 3. The first safety happened when the punter kicked the ball off his teammates butt. The still picture of this is hilarious.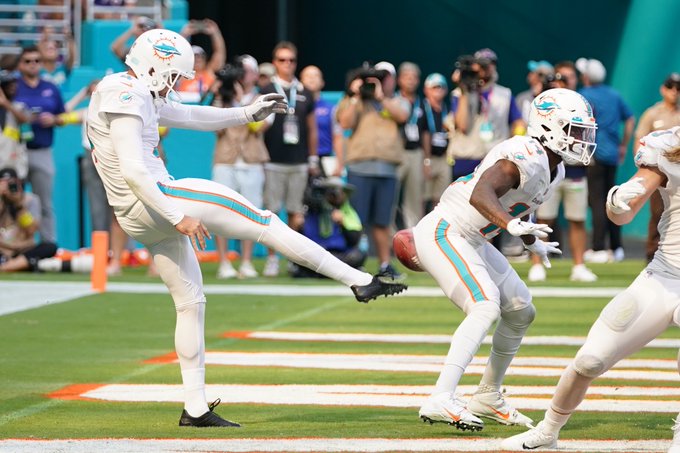 The other safety happened when Jimmy G stepped out of the back of the end zone. Apparently this was the first time this happened since Dan Orlovsky did it fourteen years ago.
Tags: #football